Scan Documents
You don't need a scanner to turn your papers into digital documents. All you need are these apps.
Turn your iOS device into a precise, high-quality pocket scanner.
Scanner Pro-OCR Scanning & Faxing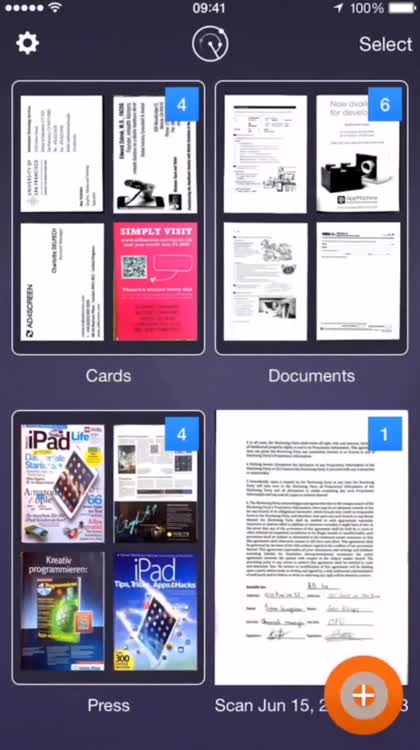 For anyone who dislikes dealing with paper and encounters it left, right, and center.
Scanner Pro allows you to easily scan documents, receipts, tickets, and more using your iOS device's camera, with automatic border detection and shadow removal at that. It then lets you save or share your scans as multi-page PDF or JPEG files.
why we love it
Scanner Pro wouldn't have lasted for as long as it has if it didn't offer and continually expand on a robust feature set for quick and easy mobile scanning. More than merely scanning documents, the app incorporates automatic border detection, shadow removal, distortion correction, optical character recognition, workflow integration, and other technologies to let you do more with the files you care about.
Scan Hero: PDF Scanner
Apalon Apps
For those who want to scan, print, and manage documents with their iOS device.
Using only your iPhone or iPad you can instantly scan and print any written, printed or graphic material, including: contracts for your partners or clients; business cards; receipts to track your expenses; paper notes and mindmaps to save the best ideas for future reference; book pages and articles for further reading and analysis; texts that don't offer a digital copy; or any other multipage document for different purposes.
Scan Business Cards
You might get a business card when you meet someone new in a professional atmosphere. Scan them in, so you don't have to keep tons of business cards.
When you need a powerful but fast business card reader
ScanBizCards
For anyone who wants a fast and efficient card reader.
ScanBizCards is an intuitive app that makes it super easy to scan business cards. When you get a card, just whip out your phone and take a picture of it — the app scans it for all the necessary contact information and will parse it into the appropriate contact detail fields. The OCR engine is powerful and accurate, so you shouldn't have to do much manual input of data. Contacts will be synced with the cloud so your rolodex goes with you everywhere. It's fast and easy to use, making it an indispensable tool for business.
why we love it
Scanning business cards is important, especially during conventions, and this app is simple and easy to use while still being powerful and effective.
When you have to deal with a lot of business cards, you need this app
WorldCard Mobile
For anyone who deals with a lot of business cards.
WorldCard Mobile is a powerful app that lets users scan business cards and then save them to their contacts. The app will pull data from specified fields and add them to a new or existing contact, and you don't have to do much manual work. The app saves all cards that you scan, and you can even contact them directly from the app itself, whether it's an email, message, or phone call. There's syncing solutions so that all of your business card contacts stay with you, and you have your own digital rolodex.
why we love it
When conventions come around, we end up with a lot of business cards. This app makes it easy to save and keep track of everyone we meet.
Scan Barcode & QR Codes
If you ever come across a barcode or QR code, these apps can help make sense of the codes. You can also save the information for later.
The ultimate mobile scanner
SwiftScan – Document Scanner
Scanbot is a powerful and awesome scanning solution in your pocket.
Scanbot is a scanning app that is capable of scanning business cards, documents, QR codes, and barcodes. The app itself has a gorgeous interface that is easy on the eyes and it is highly customizable with different theme options and settings. Scans can be automatically uploaded to services like Dropbox and Evernote, or you can share scans directly with others through email and SMS or open it in another app through the share extensions. The Pro upgrade will unlock more features, and after we've been using it for the past few years, we can say that this upgrade is well worth it. Scanbot is the best mobile scanning solution out there.
why we love it
It has a beautiful interface and packs in a ton of amazingly powerful and useful features.
QR Code Reader & QR Scanner!
MixerBox Inc.
For those who want a QR code and barcode reader with flashlight support.
Free QR Code Reader & Barcode Scanner for iPhone also works on iPad for rapid scanning. View product details from places like Amazon.com. The scanner reads 1D and 2D codes, saves your scan history, and lets you scan in the dark with flashlight support.
why we love it
If you often scan codes in low light, check out the flashlight support with Free QR Code Reader & Barcode Scanner for iPhone.